At MOTI, our primary objective is to help our clients achieve sustained wellness. Experience an elevated approach to Personal Training by training with a Doctor of Physical Therapy. We work with people of all ages and fitness levels, helping them to achieve their health goals. We help competitive athletes achieve their goals and gain a deep understanding of how to safely and effectively maintain peak performance levels. Likewise, we work with weekend warriors and recreational athletes looking to regain or improve power, speed, and longevity. We also work with individuals simply looking to improve their health through weight loss, healthy nutrition habits, and healthy fitness habits. Our Physical Therapists develop personalized programs with each individual to help them accomplish their goals in the short term and sustain their goals in the long term. We work with the client to develop safer and more effective movement patterns, as well as helping them to form new, healthier lifestyle habits to serve their overall health and well-being.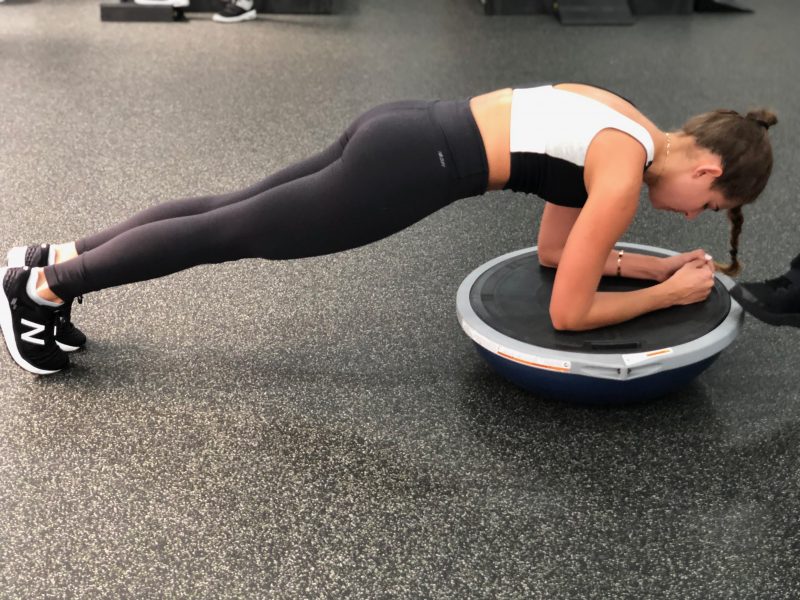 "Brian has completely changed my body. Not only do I look different, I feel stronger and more confident than ever. I've gotten my strength back in a way that was tailored to my personal wants and my body's physical needs. Everyone at MOTI is so knowledgeable, friendly and all around awesome. I look forward to going every week." -Shannon
Why should I work with a Physical Therapist at MOTI instead of a Personal Trainer somewhere else?
MOTI's PTs can help you get the results you desire, while ensuring that you do not get hurt in the process. Many of our Physical Therapists are also Certified Strength and Conditioning Specialists (the highest credential amongst fitness trainers). By training with a PT at MOTI, you are getting the best of both worlds:
a high level strength coach with years of experience programing sport-specific exercise and helping athletes accomplish their performance goals

a licensed Doctor of Physical Therapy who can keep a close watch on any symptoms of pain and/or injury and make sure to not exacerbate those symptoms with your training program. Furthermore, your PT will put together a truly expert exercise program aimed at bulletproofing your body and preventing injuries commonly caused by training.
Will insurance cover my Personal Training sessions?
No. Insurance payers will only cover treatment of an injury when proven medically necessary. Training at MOTI is a self-pay service only.
We offer these options to provide the training experience that works best for you. Learn more about our pricing.
One on One Personal Training
Couples Training (you and a partner can train together)
How do I get started with Personal Training at MOTI?
You will begin with a complimentary 30 minute Training Assessment with Director of Performance & Training, Dr. Brian Schwabe. Your journey to sustainable wellness begins with this honest conversation about what you hope to accomplish through your sessions. At this Assessment, Brian may perform some movement tests and/or measurements. You and Brian will work together to come up with a plan for moving towards your goals, and maintaining those goals.
After your Training Assessment, you will begin your Training sessions. Frequency of sessions can be influenced by budget and/or what will be necessary to achieve your goals, with consideration of your life style and how much fitness you may practice on your own outside of your sessions at MOTI.
"For the first time in my life I am working out and loving it! Mainly because my trainer Brian Schwabe is a Doctor of Physical Therapy (as are all the trainers), and he makes sure I don't injure myself and yet my workouts are already getting great results. This place is unlike any gym I have ever been to. " -Susan
What will my workouts be like?
The nature of your workout depends 100% on you, what your goals are, and what sports/activities you enjoy. Your PT will put together truly customized workouts and will track your progress from session to session. In many cases, your PT will also likely give you an exercise plan to practice on your own time outside of MOTI. During your session, your PT may employ one of MOTI's PT Aides to help demonstrate your workout and guide you along the way.
Which PT should I work with?
We recommend calling our office so that we can schedule your Free Training Assessment with Director of Performance & Training, Dr. Brian Schwabe. Brian will work with you to determine which of our PTs is the best fit for you. Here are some of the areas of expertise our PT's have with regards to Personal Training and Sports Performance Training:
Dr. Brian Schwabe, DPT, CSCS has ample experience training NBA athletes, pro volleyball athletes and high level tennis, baseball, and football players. He is passionate about helping athletes of all levels perform at their best.

Dr. Ann Degrey, DPT is a passionate sports PT and Trainer who frequently works with professional level soccer and volleyball athletes. She is also a Certified USA Weightlifting Performance Coach who has helped many weightlifters and cross-fitters improve technique and safely reach strength goals.

Dr. Nick Cutri, DPT, CSCS has trained many elite high school and college football players and track athletes. Nick has also revolutionized the sport of professional skateboarding, developing original sport-specific training programs for the top athletes in the sport. Are you a golfer? Nick is a certified Nike Golf expert and can help you improve your mechanics to better your game.

Dr. Megan O'Linn, DPT, OCS, was a collegiate water polo player and is passionate about training throwing athletes for improved sports performance. She has also become an expert in training endurance athletes looking to improve race performance.