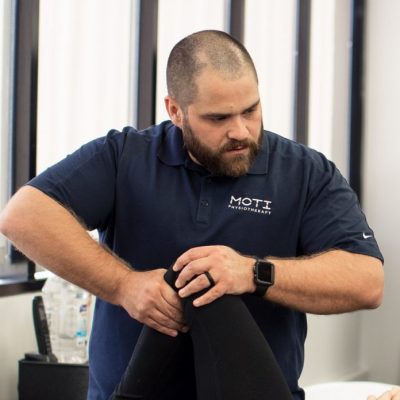 Dr. Nick Cutri, PT, DPT, FAFS, CSCS
President, MOTI Physiotherapy
Dr. Nick Cutri earned his Doctorate of Physical Therapy (DPT) from the University of Southern California after earning his BS in Kinesiology at San Diego State University. A practitioner of functional physical therapy, he completed the Fellowship Program in Applied Functional Science with the Gray Institute for Functional Therapy. He is also a Certified Strength and Conditioning Specialist (CSCS) with the National Strength and Conditioning Association (NSCA). An expert in Sports Physical Therapy, Nick has worked with many professional athletes. He has developed special expertise and programming for NBA athletes, professional skateboarders, and professional dancers. Opening MOTI Physiotherapy is a dream come true, and it is Nick's aspiration to provide a positive healing environment that produces results for all patients.
Dr. Megan O'Linn, PT, DPT, OCS, CSCS
Clinic Director, Senior Physical Therapist
Dr. Megan O'Linn earned her Doctorate of Physical Therapy from Mt. St. Mary's University after earning her BS in Kinesiology at University of Hawaii at Manoa. Megan is inspired by using a holistic approach to manage musculoskeletal pain and has focused her continuing education to increase her knowledge in developmental and functional movement to treat the body as whole. To further pursue her expertise Megan received her Orthopedic Certified Specialist (OCS) board certification in 2016, and she is also a Certified Strength and Conditioning Specialist (CSCS). Megan played ten years of competitive water polo, four at the collegiate level, and enjoys working with aquatic and extreme athletes.
Dr. Brian Schwabe, PT, DPT, SCS, COMT, CSCS
Senior Physical Therapist, Director of Performance & Training
Dr. Brian Schwabe earned his DPT from Saint Louis University.  Following PT school he sought out specialization and was accepted into USC's Sports Physical Therapy Residency Program which allowed him to learn and be mentored by some of the top sports medicine doctors and physical therapists in Los Angeles. After concluding his sports residency, he went on to achieve board certification in sports physical therapy (SCS) and continued to further his education with a year long certified orthopedic manual therapy program (COMT).  Brian has worked with numerous professional athletes and been fortunate to cover unique events such as AVP beach volleyball, WNBA games, NBA workouts, ESPN sports science show, and on-set TV shows.  He believes in an eclectic approach to movement with a healthy balance of mobility, manual therapy, strengthening, and biomechanics to create a healthier, more active person.
Dr. Katie Lichty, PT, DPT, OCS
Senior Physical Therapist
Born and raised in the central valley of California, Katie has always loved living in California, earning her BS from the University of California Santa Barbara, and then receiving her Doctorate in Physical Therapy (DPT) from Chapman University in 2011.  She also has the special distinction of being a Board Certified Orthopedic Specialist (OCS), and has completed all coursework for The McKenzie Method of Mechanical Diagnosis and Therapy (MDT) training for the spine.  Katie is experienced in treating the full spectrum of orthopedic and sports-related injuries and surgeries in children and adults.
Katie's love for orthopedic and sports physical therapy began as a freshman in high school when she injured her knee in soccer, tearing her ACL.  After working countless hours with physical therapists, she was able to get back on the field and also go on to play competitive volleyball.  She continues to have a great interest in ACL injury prevention and rehabilitation. If she isn't working in the clinic, you can find her running a marathon, playing classical piano, raising money for 18-mile night walks for suicide awareness, or cooking up a storm for a themed dinner party.
Dr. Ann Nguyen Degrey, PT, DPT
Physical Therapist
Dr. Ann Nguyen Degrey graduated from UC Irvine with a B.S. In Public Health Sciences and then continued her educational pursuits at University of St. Augustine, earning her Doctorate in Physical Therapy (DPT) with an emphasis on Manual Therapy. Dr. Degrey utilizes a movement-based treatment approach that incorporates manual therapy, corrective exercises, and certified techniques such as Myofascial Decompression (Cup Therapy), IASTM (Instrument Assisted Soft Tissue Mobilization), and Kinesiology taping. Additionally, she also is a Certified Medical Emergency Responder and active Trainer for the Los Angeles Premier Futbol Club, US Developmental Academy, and Women's Premier Soccer League. Dr. Degrey also volunteers as a medical provider for professional sports organizations including Team USA Weightlifting, AVP Beach Volleyball, World Police Games, Crescenta Valley Futbol Club, the US Powerlifting Association, and is a Certified USA Weightlifting Performance Coach. With her education and experience in Sports Physical Therapy, Dr. Degrey is currently pursuing her Sports Certified Specialist (SCS) to further her expertise in athletic injury management and rehabilitation.
Dr. Lindsay Brunner, PT, DPT, OCS
Physical Therapist
Dr. Lindsay Brunner earned her Doctor of Physical Therapy degree from Mount St. Mary's University. Upon graduating she completed the Orthopedic Residency Program at Kaiser Permanente, which involved a mix of additional didactic learning and clinical work under expert mentors in orthopedic physical therapy. Lindsay is a board certified Orthopedic Certified Specialist (OCS).  She works with patients to optimize the way they move, whether it be for simple daily tasks or advanced athletic skills. Lindsay has a background of 16 years of experience as a ballet and modern dancer, as well as 12 years of competitive figure skating. Before becoming a physical therapist she taught hatha yoga, which she integrates into her exercise and movement approaches. Lindsay has completed the Pelvic Floor Level 1 course through the Herman and Wallace Pelvic Rehabilitation Institute, with plans to continue through the educational series. She now treats patients with both orthopedic and pelvic floor conditions, with an integrative and holistic approach that makes use of her orthopedic skills and background as a yoga instructor. She also leads Mom Strong at MOTI Physiotherapy, a 6-week fitness program to help postpartum women return to safe and confident exercise.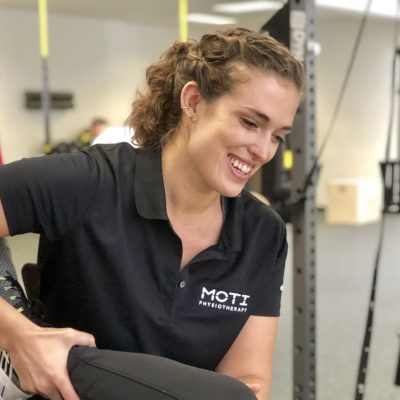 Dr. Traci Ferguson, PT, DPT
Physical Therapist
Dr. Traci Ferguson earned her Doctorate of Physical Therapy from University St. Augustine for Health Science after completing her Bachelors of Science in Kinesiology from California State University San Marcos. Traci has a strong background in manual and orthopedic therapies, with advanced coursework on evaluation and treatment of spinal and extremity function. Traci has had clinical experience in many physical therapy settings including orthopedics, pediatrics, neurological rehabilitation with emphasis on spinal cord injuries, as well as prosthetic training for amputees. Traci aspires to focus her continuing education on increasing her knowledge on functional, developmental movements, dance medicine, and sports physical therapy. Traci has over 20 years of dance experience, with over 7 years at a competitive level, and enjoys working with professional dancers and performing artists.
Dr. Kirk Ramirez, PT, DPT
Physical Therapist
Dr. Kirk Ramirez earned his Doctorate of Physical Therapy from the University of St. Augustine after earning his BS in kinesiology from the University of La Verne. His history of playing and coaching football led him to pursue a career in PT and helped shape his drive to optimize performance in the active population. He utilizes a movement-based approach and emphasizes manual therapy, corrective exercise, and neuromuscular reeducation to help people reach their goals. He is certified in the application of instrument-assisted soft tissue manipulation (IASTM) and is working toward a Manual Therapist Certification (MTC) through the University of St. Augustine. Dr. Ramirez also has experience as a volunteer medical provider for sporting events such as US Powerlifting Association competition and LA Premier Futbol Club tournament.
Dr. Kerry McMahon, PT, DPT, CSCS, CPI
Physical Therapist
Dr. Kerry McMahon received her Bachelor of Arts in Dance and a minor in Psychology at Loyola Marymount University. Upon graduation, she received her Pilates Certification with Dance Specialization from BASI, and has been teaching Pilates for 9 years in a variety of settings. Kerry wanted to expand her knowledge of movement and helping others, by becoming a Physical Therapist. She received her Doctorate of Physical Therapy degree from New York University. During her time at NYU, she became a Certified Strength and Conditioning Specialist (CSCS).  She believes it is important to provide care that is unique to each individual to reach their goal and beyond, using a multi-faceted approach including: manual therapy, movement analysis, neuromuscular re-education, Pilates, strength, and more. In her spare time she enjoys spinning, dancing, Pilates, running, and continuing to learn and keep a healthy lifestyle.
Dr. Bryce Wawrzyniak, PT, DPT, OCS
Physical Therapist
Dr. Bryce Wawrzyniak earned his Doctorate of Physical Therapy from Azusa Pacific University after earning his Bachelor of Science in Exercise Science at Grand Canyon University. Upon graduating from PT school, Bryce chose to further his education in order to provide the best possible patient care. He completed an Orthopedic Residency at Kaiser Permanente, which provided him with additional class work and mentorship from top physical therapists.  He is a board certified Orthopedic Certified Specialist (OCS). Bryce's passion for orthopedic and sports physical therapy stems from his many years of playing sports throughout his childhood and high school years. Outside of the clinic, Bryce enjoys playing sports and spending time with his wife. Bryce looks forward to expanding his knowledge in sports and orthopedic physical therapy.
Dr. Fei Zang, PT, DPT
Physical Therapist
Dr. Fei Zang earned her Doctorate of Physical Therapy (DPT) from the University of Southern California after receiving her BS in Biology and Psychology at Washington University in St. Louis. Her clinical experience includes working in a variety of settings including orthopedics, pediatrics, neurology, geriatrics, and women's health. Fei has completed Level 1 and 2 Pelvic Health Courses in the Section on Women's Health Certificate of Achievement in Pelvic Physical Therapy series. She believes in utilizing a holistic approach to treatment and empowering patients to take command of their own recovery. As a practitioner, Fei emphasizes movement analysis, manual therapy, and functional exercises to help people return to what they love to do. In her free time, Fei enjoys rock climbing, backpacking, traveling, and exploring the vibrant food scene in Los Angeles.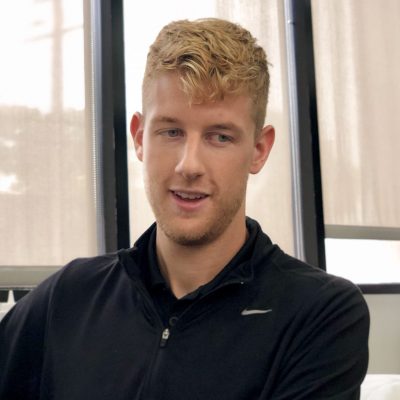 Dr. Jacob Moyer, PT, DPT
Physical Therapist
Dr. Jake Moyer received his BS in Exercise Science from the University of New Hampshire and went on to earn his Doctor of Physical Therapy degree from the University of Southern California (Fight On!). Being a runner, surfer, and hiker himself, he enjoys working with the weekend warriors, seasoned athletes, and anyone in between. He has had experience working with patients with a variety of neurological conditions such as vestibular disorders, degenerative neurological conditions, strokes, and spinal cord injuries, and enjoys being able to make meaningful changes in the lives of those affected by these conditions.
Aside from working at MOTI, Jake spends his free time exploring the vast food scene in LA; trying new sports like rock climbing and open water swimming; has volunteered in Life Rolls On, an adaptive sports organization that helps athletes with spinal cord injuries surf; and has been part of athlete assessments for youth sports such as baseball and soccer.
Anya Muradian
Physical Therapist Assistant
Anya Muradian received her Physical Therapist Assistant degree from Casa Loma College. After leaving a career as a recording engineer, Anya was relieved to find she loved helping people learn movement. Anya's movement journey started down at Santa Monica Muscle Beach where she practiced acro yoga and rings. Not long after, she trained to become a yoga teacher and taught for 2 years at Santa Monica Power Yoga West. By this time, she was also a regular gym rat and had started training to become a personal trainer as well. After training clients for a few years, she craved more knowledge about the human body and movement so she went back to school and acquired her physical therapist assistant license. Anya is driven by a desire to empower people through movement and believes the body is resilient and adaptable. Besides spending time in the gym, Anya also enjoys playing the flute, hiking, cooking, and last but not least, snacking in front of Netflix.
Ariel Jones
Clinic Administration Manager
As Clinic Administration Manager, Ariel oversees all scheduling, patient intake, billing, and compliance. She has managed offices for multiple physicians, and is now proud to be a part of the MOTI team.  Ariel loves to ensure that each MOTI client is scheduled accurately and that our billing process works perfectly.
Carmen Colón
Revenue Cycle Manager
As our Revenue Cycle Manager, Carmen is responsible for all Billing and Collections here at MOTI. She comes from a background as Billing Lead at a Primary Care and Specialist office in San Diego, and is now proud to b e part of our MOTI team. Carmen likes to spend her free time in the outdoors especially by the ocean and the beach.
If you have any questions about insurance benefits or out of pocket expenses, Carmen is the best person to talk to. Carmen@motipt.com
Katie Schaar Cutri
Director of Operations
Katie Schaar Cutri is an accomplished professional dancer/choreographer who has worked extensively with artists like P!NK, Taylor Swift, & Katy Perry, and on countless film and television productions. She developed Sugarfoot Therapy as an affordable and accessible way to bring the therapeutic exercises of sports physical therapy to dancers. Katie travels all over the country teaching the program to dancers and dance educators; and she is now happy to teach Sugarfoot Therapy classes at MOTI. Along with her husband, Dr. Nick Cutri, Katie oversees operations at MOTI Physiotherapy.
Persia Brown
Patient Coordinator
As one of our Patient Coordinators, Persia is responsible for ensuring a great patient experience and will do everything she can to get your questions answered. She is a graduate from California State University Northridge with her bachelors in Healthcare Administration and has worked in fast paced administration offices for the past 4 years. Having interned at Children's Hospital Los Angeles, she has experience in great patient satisfaction and hopes to ensure patient centered care. She hopes that your experience at MOTI exceeds your expectations and that MOTI has a great lasting impression on you!
Joefy Lobanga
Patient Coordinator
Joefy is currently working towards completion of her Bachelors degree in Healthcare Management. Before joining MOTI she was a care coordinator at a psychiatrist office; she has also worked as a Child Behavioral Interventionist in Santa Monica. Joefy tries to ensure that all of our patients get the most of what MOTI can offer. In her spare time, Joefy enjoys art and history museums, playing soccer, cooking and competitive cheerleading.
Christiana Greene
Patient Coordinator
A Mississippi native, Christiana spent her formative years in Orange County. She majored in Theatre in Nashville, TN., and has always had a lifelong passion working with children. After 15 years of nannying, childcare and teaching fine arts overseas, she decided it was time for a change. Next she applied her interpersonal skills for 8 years at USC Verdugo Hills Physical Medicine and Rehab, working as a receptionist, mastering scheduling, insurance verification and juggling phone calls with their Physical, OT and ST patients. Once again she was ready for a growth opportunity and recently joined us at MOTI as a patient coordinator. She is active with her two dogs and sings in church choir and is an avid swing dancer along with her husband.
Rachael Gerstel , CSCS, CPT
Personal Trainer, Sports Performance Coach
Rachael is originally from Jamestown, NY and received her BFA in Musical Theatre and Dance from Point Park University. Through recovery of an eating disorder Rachael learned that it's vital for each individual to be their own advocate for personal health and wellness. This knowledge allowed her to shift focus from performance on stage to human performance and quality of life. Today Rachael is an NSCA certified Strength and Conditioning Specialist, Nationally certified personal trainer and nutritional consultant and athlete. She is Head of Wellness for the Debbie Reynolds Scholarship where she conditions and mentors dancers striving to succeed as professionals. Together they work to bridge the gap between artistry and athleticism. Rachael is the creator of Vélos, a fitness program launched and taught in Sherman Oaks. She is a coach for Orangetheory Los Angeles, contributing writer for "Living Fit Now," a corporate trainer and educator, and a Legacy Ambassador for lululemon. Rachael's work is rooted in her love of human connection, and offers the tools necessary for a strong mind and body. She values the choice to "show up" especially when the odds are stacked against, and believes awareness, education and action are our power. That power creates change. Rachael is humbled to be part of the MOTI team with like-minded and inspiring professionals with whom to learn and grow.